>
How to use touch up paint
Touch up Paint
Our How to use touch up paint guide gives a HQ video to support written instructions on how to best use your touch up paint
Tips for using touch up paints
Shake and check colour match before use
Clean area well before commencing
keep paint inside the scratch or stone chip to be touched up
Use several light coats of touch up paint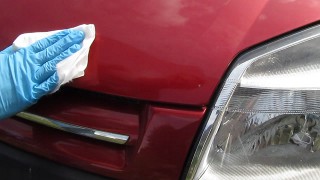 Using Touch Up Paint
Our how to use touch up paint guide talks you through the necessary steps to protect any scratches and stone chips on your vehicle. This example shows touching up stone chips on a bonnet, but any scratches can be treated using the same method.
Shake and check colour match before application

This is especially important with metallic touch up paint as the elements can seperate over time - this will ensure a better colour match.

Test in the door shut on a low vertical surface and allow to dry fully. Check the colour match from standing eye level.

Make sure the area is clean and dry.

Ensure a clean starting area to prevent any contaminants getting in to your touch ups.

Apply Colour

Remove any excess paint from the brush on the rim of the bottle.

Apply the touch up paint very carefully always trying to keep the paint inside the scratch or chip.

Allow to dry fully between light coats (approximately 30 minutes depending on conditions). Apply more coats as needed in thin layers until full coverage has been achieved. By applying several thin coats you will build layers that best replicate the factory paint.

Deeper chips and scratches that expose a lighter / darker primer (relative to vehicle colour) may require several coats to obtain full coverage.
Always ensure adequate ventilation is provided when working with these products - read relevant safety information before use
all products are used at your own risk